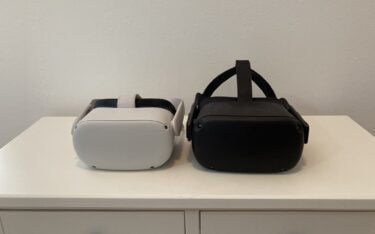 Image: MIXED
VR studios will be given the opportunity to Disable compatibility for Meta Quest 1. Another nail in the coffin for the VR headset.
Anyone who is still playing with Meta Quest 1 and regularly throws himself into Meta's popular battle royale game Population: One received two bad news at the end of July.
At the 26. On July 1st, the VR studio Bigbox VR, acquired by Meta, announced in its own blog that the top ten game was only available until 27. October 2020 is playable with Meta Quest 1. The app support of the discontinued model will be switched off retrospectively – a novum in Metas Store policy
.
On the same day, Meta announced that the price of Meta Quest 2 had increased by a whopping 100 Euro rises. To be fair, only from August, so that those affected still had a few days to switch to the newer and more powerful VR glasses at the old price – if they found out about it. Meta Quest 2 now costs the same as Meta Quest 1 did.
Meta nudges POP1 -Fans towards Quest 2
The reason for the end of Quest 1 compatibility is understandable : The ever-evolving live service game is held back by aging hardware, which is also far less common than Meta Quest 2, which released the older VR headset in October 2021 replaced.
"We are developing experiences that will push the boundaries of multiplayer VR," writes Bigbox VR. Because the studio wants to "focus on next-gen features and technology ". Meta Quest 1 will soon be unsupported.
Anyone who has purchased Population: One within the last six months and only owns a Meta Quest 1 can have the purchase price refunded. The time limit is somewhat arbitrary, especially since the VR game is almost two years old.
Cancellation online at any time


away 2,80 €

/ month

Fans of the game now have two choices: upgrade to Meta Quest 2 or play Population: One via PC VR. The game supports Crossbuy: If you bought the Quest version, you also own the Rift version.

The soft end of the Meta Quest 1

Population: One will probably not remain an isolated case. Meta is currently working on "the details of an ecosystem-wide end-of-support process," a Meta spokeswoman told tech magazine The Verge. Developers, it is said, will be able to end support for virtual reality apps on Quest 1 if they wish.

The new store policy will meta accelerate the end of the three-year-old Meta Quest 1, a development heralded by Quest 2-exclusive games and software features.

The Meta Quest 2 could meet the same fate in the next two to three years : Quest Pro aka Project Cambria (info) will be released in the next few months and end 2023 Meta Quest 3 should replace Meta Quest 2. This is probably what Bigbox VR meant when it spoke of "next-gen features and technology".

The transition from Meta Quest 2 to Meta Quest 3 will be a difficult balancing act for Meta as the former device has a far larger install base than Quest 1. Meta will want to avoid abandoning Quest 2 owners too quickly and will need to provide the right incentives to move to Meta Quest 3 over time.

Order Meta Quest 2 from Germany

Meta Quest 2 will not be sold in Germany for the time being. It is not known how long this ban will last.

At Amazon France you can buy the Meta Quest 2 as normal. Tip: Right click on the web page and select "Translate".

Meta Quest – 100 GB | Oculus Quest – 256 UK

Note: 4035You can order from Amazon France via your German account. The VR glasses support German language in the menus. A regional lock by Facebook is currently not active – Quest 2 is functioning normally. Amazon France delivers within a few days, some of the devices are even shipped from warehouses in Germany.
693500
Note: Links to online shops in articles can be so-called affiliate links. If you buy via this link, MIXED.de will receive a commission from the seller. The price does not change for you.