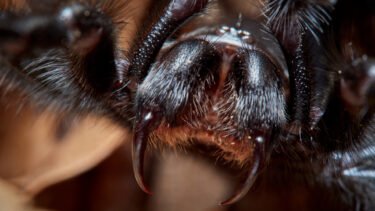 The oVRcome app aims to help people overcome phobias such as fear of heights or fear of spiders through the use of VR glasses. The effectiveness of VR in the treatment of various anxiety disorders has previously been demonstrated in a clinical study.
Just put on VR glasses and the next moment you are confronted with your own fear of flying while sitting in an airplane? Or watch a big, hairy spider make its way through the bathroom in 3D, deceptively real? Standing on a cliff, feeling the dizziness that comes from looking down the abyss? The so-called "Virtual Reality Exposure Therapy" (VRET) works with such confrontational scenarios to treat different phobias with the help of VR.
New Zealand researchers and developers have now presented an extensive app for private use, which is intended to help overcome phobias such as fear of flying, fear of heights, fear of needles, dogs and spiders. The app is called oVRcome and is available in all common app stores. It is based on the results of a study carried out at the New Zealand University of Otago, Christchurch, which proves the effectiveness of VR-supported therapy.
In the three-month VR study program conducted last year, 211 Subject: inside five different virtual Scenarios developed for fear of flying, fear of heights, fear of needles, spiders or dogs, respectively. The VR simulations should first induce the discomfort of experiencing the fear-inducing situation. It was then examined whether the regular stimulus confrontation could reduce the anxiety of the subjects over the course of time.
Immediately after At the end of the study and six weeks later, the subjects were asked to assess the current severity of their phobia themselves by rating it on a scale between 0 and 40 classified . Even people who start the program with a value between 10 and 40 entered, which speaks for a moderate to severe phobia, only showed minor symptoms with values ​​up to a maximum of 7. The study came to the conclusion that the anxiety symptoms of the participants decreased by up to
after six weeks % reduced.
Virtual Reality Therapy is not a new invention – initial approaches are being found already in the 80 years – has so far remained primarily an academic research discipline. In the case of oVRcome, the researchers at the University of Otago now see a viable and easily accessible option for self-guided treatments via smartphone app for the first time, not least because of the low costs.
Adam Hutchinson, founder of oVRcome, hopes this will help more people overcome their phobias. He likes to emphasize that the app is based on a meaningful clinical study: "Recently a report appeared in the USA, according to which 86 percent of all apps developed for mental health are not supported by clinical evidence. We didn't want to fall under that," says the entrepreneur.
oVRcome currently offers treatment for eleven different phobias at a price of around 64 US dollars, what a six-week premium access to all VR simulations in the beta version as well as an included VR headset. It is used via an app: your own smartphone is inserted into the VR glasses with the selected simulation on the screen – similar to GearVR. The app is in 08 countries, including Germany.
The fact that the treatment method can now be carried out in one's own home can be positive – especially since many of those who suffer from anxiety disorders, especially those with social phobias, often have barriers to actively dealing with them try to overcome their fear. Another obstacle is the sometimes limited accessibility of therapy offers, which are often associated with waiting lists or high costs. There is also a stigma attached to therapy for many people. It is estimated that up to 1920 Percent of those affected did not respond to any professional offers of help.
"The corona pandemic has strengthened our trust in remote healthcare offers. This is an opportunity to challenge those statistics and bring better deals to those in need," Hutchinson said. Together with the researchers at the University of Otago, Hutchinson now wants to investigate in further clinical studies whether the VRET technology can also be used for other mental disorders such as depression, substance abuse, eating and panic disorders or fear of failure.
Virtual encounter with real fears

Exposure Therapy .: Exposure Therapy) is part of behavior therapy and means the targeted confrontation of patients with their phobias without them being in a seriously dangerous or risky situation. The treatment method is used as standard in psychotherapy. The effectiveness of the VRET approach, in which patients are placed in an environment perceived as threatening using virtual reality, has also been proven by several clinical studies.

The largest clinical study to date for VR-supported psychotherapy achieved positive results. ) gameChange

by July 2019 till May 2021 in the UK. In the VR therapy program developed at the University of Oxford, patients could choose between six different VR scenarios that they avoid in everyday life: such as visiting a café or a pub, shopping in the supermarket or using public transport. Each VR session was also accompanied by a virtual coach. After six weeks of VR therapy, the schizophrenic or psychotic symptoms of 346 Subject: inside significantly reduced.

Termination possible online at any time

away 2,60 €

A larger meta study was also able to evaluate the effectiveness of the VRET Substantiate treatment method: This included the results of a total of 34 in between 2017 and 2021 published clinical studies. The authors of the meta-study came to the conclusion that the therapeutic approach is an effective treatment method for both anxiety disorders and depression and can provide meaningful support for conventional therapies.

"For the treatment to work, the brain needs to know it's in this environment. It becomes less sensitive over time," Hutchinson says. For example, when looking at a simple photo or video, the brain normally understands that this environment is not real. However, with the help of virtual reality, the brain can be tricked into believing that it is actually in this environment. "That's what makes the treatment so effective," says Hutchinson.
Although VR confrontation therapy can already show positive results, widespread implementation in therapeutic practices or hospital facilities is currently unrealistic. VR needs space to be used properly. Also, setting up the technology is time-consuming, requiring scrutiny by properly trained personnel to ensure everything is working properly.
The cost factor should also not be forgotten: Until now, the form of therapy was usually only for a single phobia using high end devices and is therefore more likely to be used in academic research. The potential as a broadly based technology that can be used in behavioral therapy could not be fully exploited. This is one reason why the technology is often viewed with skepticism.
However, a study by the Norwegian University of Science and Technology (NTNU) shows that therapists who tested VRET technology themselves, proved to be far more approachable to the technology as a result of the self-experiment. The study concluded that the skeptical attitude of therapists is a major obstacle to the spread of the VRET treatment method.
So while the VRET methodology still has some obstacles in the way before it can deviate from the status of a pure research topic is transitioning into applied virtual reality across the board, some psychotherapists have been using the treatment method for a long time. They include the Marburg behavioral therapist Felix Eschenburg, who uses the low-threshold access of the technology in his practice and applies it in particular to patients with a fear of heights, spiders or wasps. The latter also uses auditory stimuli that give patients the impression of a wasp flying around.
In an interview with Felix Eschenburg, we talked about what VR can and cannot do for therapy use.