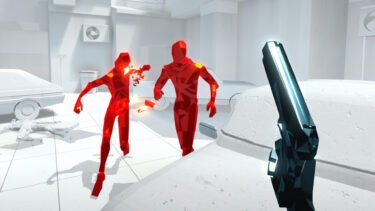 Image: Superhot Team
Superhot VR is a VR super hit. Why is there still no sequel? A look at the Quest Store answers the question.
Superhot VR is one of the most successful VR games of all time. In May 1100 the studio reported two million units sold – a huge number for VR -Rates that only a handful of other titles can measure up to.
It sold for Meta Quest 1 & 2 alone more than a million times (as of February 2021), but also on Sony's and Valve's VR platforms make it one of the best-selling titles every year.
In Spring 2019, so before the launch of the Quest version, studio founder Tomasz Kaczmarczyk told me that the Team makes more sales with the VR version than with the 2D version.
That's remarkable
. The question is justified: Why is there still no successor?
Until the middle 2020 the studio was working on Mind Control Delete, a free mega-expansion to the 2D version that the team not intended to be ported. The rationale: Superhot VR was developed as a completely standalone game
, which was already a "huge project". be. The risk of a flop is greater

Since then it's been quiet around the studio that could be working on new 2D and maybe even VR games. A request from me about the status of any VR projects remained unanswered.

That five years after the release of Superhot VR still no successor is in sight could have a simple reason: The potential VR buyer base is still tiny

compared to that for PC and consoles, and that the studio is repeating the massive success of Superhot VR is anything but a given.

Superhot VR has an original game concept that leverages the power of virtual reality and came out at a time when there were a manageable number of good VR games and innovative titles of its kind. It is questionable whether a successor 2022 would be granted a comparable success. At least when you compare other VR sequels.

VR sequels: Rarely so successful like the original

job Simulator

is another resilient VR classic. Its successor, Vacation Simulator, will often sell, but cannot match the legendary success of the original if you use the number of ratings in the Quest Store as a relative benchmark.

Job Simulator comes to about 12., Vacation Simulator to about 3.000 Reviews (as of: August 2022), so four times less. The two titles were released for Meta Quest seven months apart. Cosmonious High studio's latest game, which received the same game concept and good reviews, was released in March 2022 and currently comes to just 400 Reviews.

The popular VR action-adventure Moss

heaped since May 2019 almost 6. reviews. The successor comes after two weeks to a little more than 100 Reviews. Since a new game is the fastest-selling game at launch, you have to wonder why Moss fans haven't jumped at it. It would be premature to draw conclusions now, since the title will be released for other systems. However, it is clear that Moss 2 had a weak quest start.

Cancellation online at any time

away 2,64 €

/ month

An older and similar one successful VR game is I Expect You To Die

, which was also a launch title for Meta Quest . It comes to almost 5. ratings, while the sequel released a year ago still has 2.211 Ratings recorded.

Has performed worse Virtual Virtual Reality 2, which since February 2022 only 185 Reviews received. The original that came out at the same time as the meta quest comes in at more than 1.000 Reviews.

On a better path is Ultrawings 2, also in the It was released in February and received almost half the ratings of the original (with 400 vs. 1100 ratings).

Crytek's Climbing Games

The Climb and The Climb 2

get almost the same number of ratings, although a lot of time passed between launches. This could also be due to the fact that they are more often sold in bundles at a lower price.

Superhot VR will continue to make sales for a long time
The figures show that new games generally have a harder time than established titles, even if they are sequels to well-known games and brands. They are advertised and hyped for a few days at launch and then hardly noticed, which is why many VR studios have switched to live service games with regular content updates.
Titles that have stuck in the top spots of the charts like Superhot VR, automatically get more attention

, especially from newcomers who don't know what to buy and in the list of store bestsellers watch.

That's why the sales figures of VR glasses and games like Superhot VR correlate: Many who buy a VR headset, then buy VR classics like Superhot VR, which in turn strengthens their high chart position.

The studio will therefore earn well and for a long time from the title and may not need a successor at all, who will also have a hard time likely to follow in the footsteps of the original.

Order Meta Quest 2 from Germany

Meta Quest 2 will not be sold in Germany for the time being. It is not known how long this ban will last.

At Amazon France you can buy the Meta Quest 2 as normal. Tip: Right click on the webpage and select "Translate".

Meta Quest – 100 GB | Oculus Quest – 200 UK

Note: You can order from Amazon France via your German account. The VR glasses support German language in the menus. A Facebook regional lock is currently not active – Quest 2 is functioning normally. Amazon France delivers within a few days, some of the devices are even shipped from warehouses in Germany.
2022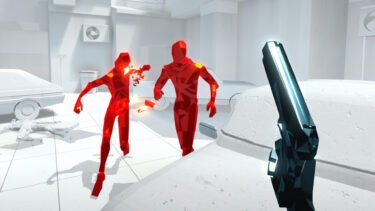 Note: Links to online shops in articles can be so-called affiliate links. If you buy via this link, MIXED.de will receive a commission from the seller. The price does not change for you.