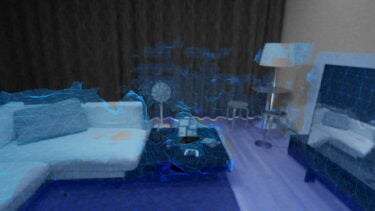 Image: Sony
The Playstation VR 2 could offer something that meta Quest 2 sorely lacks: an automatic setup of the play area.
In order for consumers to use VR glasses instead of smartphones, TV remote controls or game consoles, the switch to virtual reality must be as quick and easy as possible.
Meta Quest 2 has removed the biggest hurdle: The VR headset does not require a player that you have to start or set up first and is ready for use in a few seconds thanks to the standby mode . At least in theory.
In reality there is usually one more step to take: you have to Confirm or redraw play area
, which always takes a few seconds or forces you to get up off the couch.
The VR glasses should remember the room, but since the layout of the furniture in the living room changes frequently, the recognition algorithm may fail.
Awkward VR entry
I have to feel every other time messing around with the Guardian system. If I don't like going through the tedious procedure (standing up, touching the ground, drawing boundaries, confirming), I use the stationary mode. But even this can be annoying because of the lack of flexibility: If I change my position in the room slightly, a blue circle appears or the game world disappears, so that I have to set up Guardian again.
You can see: The Guardian system still has a lot of room for improvement and is currently an unsatisfactory solution that the VR Unnecessarily complicated to use.
Playstation VR 2 could take an important technological step forward by taking the space of the VR headset scans and automatically recognizes where you are
: on a free play area, on the couch or a chair.
Cancellation online at any time
starting at 2,091 €
/ Month