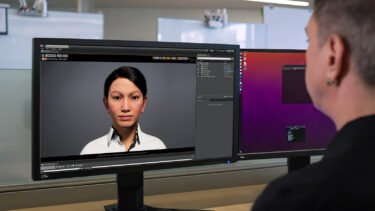 Image: Nvidia
Nvidia is presenting new technologies for the industrial at SIGGRAPH Metaverse and releases tools for AI graphics.
The SIGGRAPH (Special Interest Group on Computer Graphics and Interactive Techniques) is an annual conference on computer graphics and has been held since 1974 instead of. At this year's event, Nvidia founder and CEO Jensen Huang will show how the company aims to bring together AI, computer graphics and the (industrial) metaverse.
"The combination of AI and computer graphics will power the Metaverse, the next evolution of the Internet," said Huang at the beginning of the Nvidia presentation.
Nvidia's presentation showed different elements of this project in four sections: The new Nvidia Omniverse Avatar Cloud Engine (ACE), plans for expanding the Universal Scene Description Standard (USD), the intended to serve as the "language of the metaverse", comprehensive extensions for Nvidia's omniverse and tools for AI graphics.
A metaverse needs a standard way to describe all content within 3D worlds, according to Rev Lebaredian, vice president for Omniverse and simulation technology at Nvidia. The company believes Pixar's Universal Scene Description (USD) will be the standard scene description for the next internet era, Lebaredian added, comparing USD to HTML on the 2D web.
USD is an open source framework developed by Pixar for exchanging 3D computer graphics data and is used in many industries such as architecture, design, robotics and CAD.
Nvidia will therefore Pixar, along with Adobe, Autodesk, Siemens and a number of other leading companies, are pursuing a multi-year strategy to expand USD's capabilities beyond visual effects. USD is designed to better support industrial metaverse applications in architecture, engineering, manufacturing, scientific computing, robotics, and industrial digital twins.
"Our next milestones aim to make USD powerful for virtual worlds and industrial digital twins in real-time," says Lebaredian. Nvidia also wants to help develop support for international character sets, geospatial coordinates, and real-time streaming of IoT data.