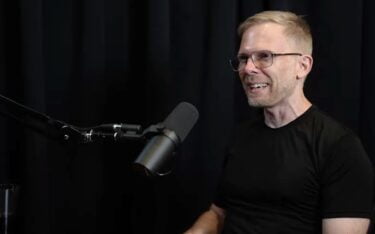 Image: Lex Fridman
Meta puts tremendous resources into the development of the Metaverse. Too much, John Carmack thinks. He demands more efficiency.
AI researcher and podcaster Lex Fridman is guesting legendary programmer and former Oculus chief of technology John Carmack on his latest show. At over five hours it is Fridman's longest podcast episode to date.
Carmack talks about a wide range of topics: from Wolfenstein, Doom and Quake, to the Metaverse and space travel to martial arts and his recent interest in artificial intelligence.
Carmack resigned at the end of 2019 as Oculus Chief Technology Officer to dedicate himself to the development of a super AI. He continues to work for Meta, but only in an advisory role.
Carmack is open about Meta
In the podcast he talks about meta and virtual reality for almost half an hour. His statements suggest that he is still heavily involved in internal processes.
Carmack has always had a special status at Meta and is open about his opinions, even if it goes against Meta's PR. At the last Connect conference, Carmack questioned Meta's Metaverse development, and more recently he criticized how the company justified the Quest 2 price increase.
At Lex Fridman, Carmack discusses Meta's costly Metaverse investments. The company gave 2021 more than $10 billion to the Reality Labs department that does a lot of R&D and works on many VR and AR products.
Cancellation online at any time

starting at 2,80 € / Month
Carmack: "Could be much more effective"
Ten billion US dollars: That is a number that Carmack says it was difficult to process. "I get sick just thinking about how much money is being spent," says Carmack.
The high spending is a way Meta demonstrates commitment . In contrast to other companies – Carmack cites Google as an example – Meta is sticking to the financing of VR projects.
" will not go away, work continues, I just wish all these resources were used more effectively," said Carmack, who has previously complained about wasted resources.
Carmack points to smaller companies that compete with Meta but have only a tenth the staff and are therefore more agile. Too many and too large departments, Carmack suggests, lead to a silo mentality , in which the staff only works on solving their own, narrowly defined tasks and loses sight of the big picture.
"I think our efficiency could be more than two or four times that. I keep saying we can do better."
Note: Links to online shops in articles can be so-called affiliate links. If you buy via this link, MIXED.de will receive a commission from the seller. The price does not change for you.