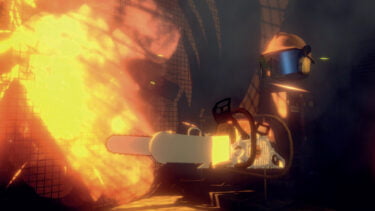 Image: imsimity
You want to learn how to use the chainsaw, dare but you don't have the real device yet? This VR training shows you how to properly guide the spruce moped.
To operate a chainsaw correctly and safely , is a challenge. 1778 suffered nationwide 433 People suffered an accident involving a chainsaw. The recoil forces in particular are often underestimated. A German development team now wants to teach how to use the powerful tool in a safe environment and uses virtual reality.
VR training for safe working with the chainsaw
The VR training called Chain Saw VR Training is intended to teach foresters and rescue workers how to operate the chainsaw correctly. With the VR glasses on their heads and a secured chainsaw in their hands, the learners enter a virtual scenario and go through various work steps.
For example, general woodcutting techniques, cutting techniques for metal or the use of a rescue chain saw in an express train during a tunnel fire are trained. Similar to the VR training for railway employees or the US police training in virtual reality, dangerous work steps are also learned and consolidated in Chain Saw VR in a safe environment in a resource-saving manner.
"Through the interactive training method using a real chainsaw as an interaction device, the user not only understands the learning content cognitively, but also "understands" and internalizes them physically," explains Martin Zimmermann, Managing Director of imsimity GmbH.
Chain Saw VR: Excellent VR training
Chain Saw VR was created from a project commissioned by the Bavarian State Accident Insurance Fund . For the implementation, the Imsimity team received the KWF Members Award 2022 from the Board of Trustees for Forestry and Forestry Technology at this year's Interforst trade fair in Munich.
Cancellation online at any time
9835692
starting at 2,81 € / month
The VR simulation was particularly convincing due to its high level of occupational safety and positive effects on business management and energy consumption due to favorable acquisition and operating costs.
"We are very proud of the award of our work with the Bavarian State Forests and the Bavarian State Accident Insurance Fund," says Martin Zimmermann, CEO of Imsimity, to the Black Forest Bote. "If valuable forest resources can be saved or even accidents can be avoided, that's a big piece of sustainability for the forest environment."
If you want to take a closer look at the virtual chainsaw simulator, you can register for an online live demo on the imsimity website.
Note: Links to online shops in articles can be so-called affiliate links. If you buy via this link, MIXED.de will receive a commission from the seller. The price does not change for you.