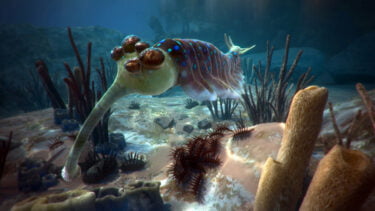 Image: Alchemy Immersive
This year again, VR films for nominated for the Emmy. You can watch them for free with Meta Quest 2.
At the end of July, the National Academy of Television Arts & Sciences (NATAS) announced the nominees for the "News & Documentary" category. Among them are four VR documentaries
.
The works are nominated in two categories for the prestigious US television award: Three VR Documentaries in Outstanding Interactive Media and one in Outstanding Interactive Media: Innovation.
The winners will be announced on
28. and 29. September 2022 nominated.
Which VR documentaries are nominated?
Below is a list of all nominees, the VR films are marked in bold.
Outstanding Interactive Media

Kingdom of Plants with David Attenborough by Alchemy Immersive (see Oculus TV)
David Attenborough's First Life
by Alchemy Immersive (see Oculus TV)
Assault on Democracy by CNN Visuals
Re-Educated by The New Yorker (see Oculus TV)
Postcards from a World on Fire by The New York Times
Outstanding Interactive Media: Innovation

FRONTLINE Un(re) by PBS
Goliath: Playing with Reality
by Oculus(see Oculus Store)
Inaccessible Cities by AJ Contrast / Al Jazeera Digital
POV The Changing Same: American Pilgrimage by POV
What the 1921 Tulsa Race Massacre Destroyed by The New York Times

What are the VR documentaries about? Kingdom of Plants & First Life

Both VR documentaries are based on earlier ones Productions by the world famous wildlife filmmaker Sir David Attenborough, whose voice accompanies us on the journey into the kingdom of plants and primeval creatures. The London VR studio Alchemy Immersive implemented it in cooperation with Meta.

Kingdom of Plants consists of

three five-minute episodes

and takes viewers into the mysterious realm of plants. As with Micro Monsters, you shrink to the size of a fingernail and experience nature from a new, menacing perspective. Thanks 94 grade -Panorama, 3D effect and a razor-sharp image, the sometimes aggressive plants look real to the touch.

First Life takes VR viewers on a Journey to Prehistory

. You experience how the first unicellular organisms, which existed 3 billion years ago, became clumps of cells and from these increasingly complex living beings. In contrast to Kingdom of Plants, First Life is completely computer-animated.

You can read more about the VR documentaries in the article Killer Plants and Prehistoric Creatures: Impressing Meta's new VR films.

Re-Educated

This political VR documentary reconstructs the experiences of three Detainees in Chinese Re-education Camps

in Xinjiang Province. According to UN estimates, up to one million people are arbitrarily held in the camps every year (see Wikipedia).

Cancellation online at any time
away 2,80 €
Based on testimonies, sketches by survivors
and satellite photos
the VR film traces the experiences of the men. Animator Nicholas Rubin's 3D illustrations and Jon Bernson's spatial sound compositions ensure (uncomfortable) immersion.
Goliath

The VR film is about a man who developed schizophrenia, spent many years in psychiatric hospitals and finally found social connections in gaming communities.

Viewers: inside go through a wide range of visual worlds and realities with the man, accompanied by the narrator Echo, who Oscar winner Tilda Swinton lends her voice.

Goliath was created in the frame from Meta's VR for Good initiative.

How do I watch the VR documentaries?

You can watch Kingdom of Plants, First Life and Re-Educated via Oculus TV.

Open the relevant VR Movie's Oculus TV link (see list above) and click Watch Later.
Starts Oculus TV and switches to the "Saved" tab . The VR film should now be visible here. Alternatively, you can use the Oculus TV search box to search for the movie.

How to download and watch the films in the best quality is in our quest -2 Tips Guide.

Goliath is available as a free VR app in the Quest Store.

5278

A notice: Links to online shops in articles can be so-called affiliate links. If you buy via this link, MIXED.de will receive a commission from the seller. The price does not change for you.